Steven Stephens is still out there?!
FOLLOW US:
UPDATE!
Erie, Pennsylvania – Police have confirmed that a man found dead inside a Ford Fusion in Erie is Steve Stephens. He committed suicide, and died from a self inflicted gun shot wound after a brief police pursuit.
---
Cleveland, Ohio – Have you heard about this man named Steven Stephens? This man in his words "has lost it", he posted a prerecorded video on facebook of  him allegedly killing an elderly man. Currently the police have widened their search as Stephens may have left Ohio. Residents in nearby States are being asked to be on alert as Stephens said his out to kill as many people as he can.
Steve Stephens, 37, is suspected of killing 74-year-old Robert Godwin on Sunday in a residential area east of Cleveland, police said. An aggravated murder warrant has been issued for Stephens.
Police said Sunday night that Stephens "may be out of state at this time," and called on residents in Pennsylvania, New York, Indiana and Michigan to be vigilant.
"He is considered armed and dangerous, so we want people to be careful out there," Cleveland Police Chief Calvin Williams told reporters.
Stephens is a black male who is 6-foot-1 and weighs 244 pounds. He was last seen wearing a dark blue and gray or black striped polo shirt.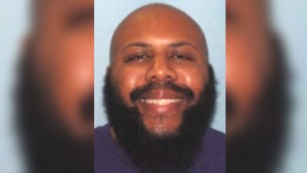 He was driving a white Ford Fusion with temporary license plates, Cleveland police said.
Stephens uploaded a video to his Facebook page showing a gun pointed at the now identified 74-year-old Robert Godwin head. The gun is fired, the man recoils and falls to the ground. His left in a pool of his own blood.
Police have not talked about a possible motive behind the shooting of Godwin. They said Stephens and Godwin didn't know each other.
"From what we can tell now, it's just a random person that he picked out. We don't know why," Williams said.
Robert Godwin was walking on the sidewalk when he met Stephens.
Godwin was on his way home from an Easter meal at his children's home when he was killed.
The video was posted around 2 p.m. Sunday. Facebook later disabled access to it and released this statement:
"We do not allow this kind of content on Facebook. We work hard to keep a safe environment on Facebook, and are in touch with law enforcement in emergencies when there are direct threats to physical safety," a Facebook spokesperson said in a statement.
Stephens claimed on Facebook that he committed multiple homicides, that he had already allegedly murdered 13 other people, but police said they have no knowledge of other victims.
'If you see me again, it'll be a miracle'
Stephens' mother, Maggie Green, told CNN that her son came by her house Saturday afternoon.
"He said this is the last time I was going to see him," recalled Green, 53. "If you see me again, it'll be a miracle," she quoted him as saying.
When asked what message she wanted to relay to her son, Green said: "I want him to call me."
Suspect was 'mad' at his girlfriend
When Green spoke with her son on Sunday, he told her he was "shooting people" because he was "mad with his girlfriend" of about three years.
Stephens is employed at Beech Brook, a behavioral health agency in northeastern Ohio that serves children, teenagers and families, according to a spokeswoman for the facility.
"We are shocked and horrified like everyone else," said Nancy Kortemeyer, a spokeswoman for Beech Brook. "To think that one of our employees could do this is awful."
Stephens' mother said he worked at Beech Brook as a social worker.
R.I.P Robert Godwin
"He is a good guy. … He'd give you the shirt off his back, and I'm not just saying that for these cameras," Robert Godwin Jr. told WOIO.
"This man right here was a good man. I hate he's gone … I don't know what I'm going to do. … It's not real."
KEEP SAFE!
---
Share This: